Have you noticed my banner?
Yeah! Pinoy alphabet is now on its Version three...So whats the difference?
"Pinoy Alphabet"(first version)- Focus for all the filipino achievements like world's renown inventions and famous Filipino all over the world.
"Pinoy Alphabet:RELOAD(second version)-gives way to all Headlines that Philippines had that left mark on the History not just in the Philippines but Internationally as well.
"Pinoy Alphabet:VERSION 3.0"-will give much focus to all the current issue that we had.Every Issue (no matter if its a political-related, celebrities, or events) will be mark down if its either THUMBS UP OR A THUMBS DOWN or BOTH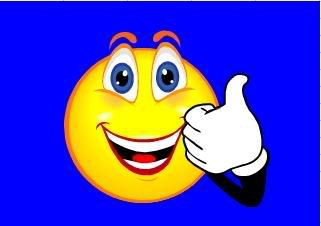 Thumbs UP! if its a good news and a positive issue.

Thumbs DOWN! if its a negative, non-sense, amd bad news.
I will be having Poll Survey as well, to let you guys to rate a certain issue if its either a thumbs up or down for you
Lets start with my first item to mark with
"Manny Pacquiao"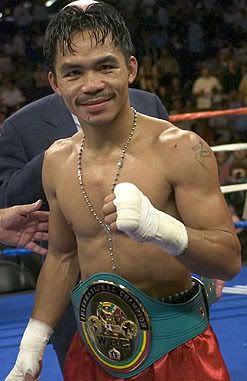 Last December 6(actual date) at MGM Grand in Las Vegas, Nevada. . The Non-title fight was held between Manny "pacman" Pacquiao and Oscar De la Hoya.
The Fight seems to be predictious, seeing that Pacquiao sending off all great punches over De La Hoya all through out the fight. It was pretty obvious that Pacquiao will won over De la Hoya.Oscar might be Heavy than Pacman but he will never won over Pacquiao agility(which is Pacman's Specialty)
So the Fight begun and ends up until Round 8.De la Hoya threw in the towel before the start of the 9th round. It was officially a technical knockout.
and again Manny brought another Victory for us!
Are you wondering how much Manny received from this fight?Pacquiao received $15 to 30 million plus a guaranteed amount.
whoah! Manny will you please adopt me I want to be your son now haha. Speaking of son,Jinky(manny's wife) was also in that location but she choses not to be there to watch manny cause it might affect her pregnancy especially now that she's 8 month pregnant.

For that i want to give a thumbs up for that Victory!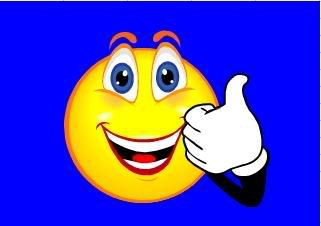 Congratulations Manny we're all proud of you!!
especially all the politicians that you have mentioned in your speech.Oooops!!!
sorry guys but i might say that i can be a mark down for Manny.Actually i was so excited to hear the speech of Manny after his Victory. But I'm quite disappointed not because of so many "uhms" and "uh" on his speech but when he mentioned all the politicians(even the interviewer noticed that and ask Manny about that)....I don't know why, but i felt that Politicians uses Manny's popularity for them to raise their name(i hope i got it wrong) well we cant blame them 2010 election is about to start so every body has its own ways how to build popularity and make themselves recognizable for the upcoming election.

1 Comment:
December 7, 2008 at 10:05 PM

 

Want $5000 for Giving Away Free Bonuses?
Want to earn thousands this week. All you do is give away a bonus worth a ton of loot. Everyone who views this bonus wants it and takes a free tour. Over 500 people a day are joining. You get paid boatloads for just giving away a bonus they already want. It really doesn't get any easier. We are paying out Huge Commissions to Internet Newbies for doing this one simple thing. So if you are sick of crap that does not pay and you want to earn thousands this week. Come get your huge bonus and take a free tour and duplicate this. It works and we're paying out over 100,000 a week. Right now you are missing your share. So come get it.
WE Give YOU $1000 in FREE ADVERTISING
Sick of hype and stuff that doesn't work? See the difference here. We even Give You $1000 in Free Advertising. Imagine your Ad on all the major search engines and we're paying for it. If you are ready to start earning thousands and want to use our dime to do it, take a free tour today.
Stop Trying We Close Your Sales and PAY YOU EVERY 24 HOURS Period
We have the only system that has internet newbies earning a ton of cash. Why? Because Millionaire internet Marketers do all of your follow up and close all your sales. Don't worry there are no monthly fees for them to do this. I'm sure you are skeptical so here's a deal. I'll give you a HUGE Bonus for me to Prove this to you. You have nothing to lose but big commissions. Take a free tour and see how we will do the work and pay you a fortune.
http://tinyurl.com/5mvx94