THE EGYPT GAME~ BY ZILPHA KEATLEY SNYDER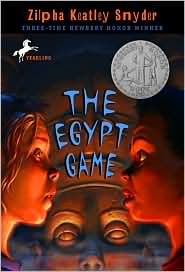 A love for all things Egyptian is what brings Melanie, April, Elizabeth, Marshall, Tobey and Petey together in the yard of A-Z Antiques and Curio Shop. In the secrecy of the inner circle, they play the Egypt game. As a part of the game, they wear Egyptian costumes, put together a secret code and hold rituals and ceremonies whenever they can.
It is fun to role play and there's enough magic and mystery about Egypt to keep your kids enthralled for hours.
0 Comments: