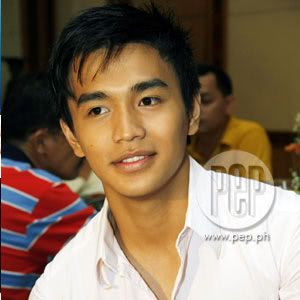 For my second post for my Pinoy alphabet version 3.0
would be Marky Cielo
According to a statement from the TV network, Cielo, 20, was found dead on December 7, 2008 by his mother. The night before, he was last seen playing an
online video game
up until ten o'clock in the evening in an
internet cafe
although some reports have stated that it was in Quezon City. When he arrived home, he had a discussion with his mother about a terrible decision he made which ended in her telling him to be responsible. According to the report, his mom went to his room in their house in Antipolo at around six o'clock in the morning to wake him up for a charity event. When he did not respond, she immediately rushed him to the nearby Antipolo Doctor's Hospital where the actor was declared dead on arrival about four hours after he arrived. An initial report states that he died in his sleep. At present, the cause of Cielo's death remains unknown as his family waits for his medical records to be released. Speculation about the true nature of his death spread immediately after he died, with some trying to discern the mysterious events surrounding it,acute pancreatitis. His wake was held in his home for three days then his remains were brought to the Episcopal Cathedral of the Ressurrection in Baguio, where it stayed for a day. His remains is to be laid to rest on December 15, in Bauko, Mountain Province, where he would be buried in his family's backyard according to traditional Igorot custom. His death is a big disappointment to his family since his father has stated that he was supposed to return to school the following year. In an interview with his mother the day after his death, she said that she is happy that he was an inspiration to his fans although she is also disappointed since it appeared to her that her son had problems and was unable to discuss them to her
Philippine young celebrities who had unexpected deaths, after Julie Vega (aged 16, who died in 1985 due to He is one of four recent cardiac arrest secondary to bronchopneumonia, and the youngest active celebrity to die), Rico Yan (aged 27, who died in 2002 due to pancreatitis), and Miko Sotto (aged 21, who died in 2003 after accidentally falling off from the ninth floor of his condominium residence).
and since it is a bad news for us
i must say that it is a thumbs down
1 Comment:
December 20, 2008 at 11:55 AM

 

hey blue, there's something wrong with your top 5 blog... everytime i open it, it will prompt me to an advertisement. please check it out...it might be because of your widgets.